Free email delivery
Please sign up for email delivery in the subscription area to the right.
No salesman will call, at least not from us. Maybe from someone else.
This posting is intentionally STUCK at the top
Scroll down for all later and earlier postings
Next ZOOM meeting is Nov. 10, 7:30 PM:  Seaweed Faceoff! Devil Weed Vs Giant Kelp, with Lauren Smith. Please sign up when you get the announcement.

---
---
UPDATE: September 19, 2020


We have a Zoom program for November 10 (second Tuesday!) and plan to fill out the program calendar through May 2021. Except for Nov. 10, all meetings are planned for the first Tuesday of these months: October, December, February – May. We have not yet planned any public field trips.
---
---
In order to help keep people safer longer from Corona virus COVID-19 (also known as SARS-CoV-2 or novel coronavirus), SMBAS has officially canceled all field trips and in-person programs. We will continue to re-evaluate the situation. When there is no longer a risk for people gathering together, we will resume our field trips and meetings.

[Chuck Almdale]
This posting is intentionally STUCK here
Scroll down for all later and earlier postings
Dear SMBAS blog readers:
Blog editor Chuck Almdale (aka "Chukar") decided after ten years that he wants to write about other, non-chapter, things. ChuckarBlog is the new forum. In addition to an archive of his old postings, it'll have new videos, articles, links and bird photos, just like before. There'll also be essays short and long and links to articles unrelated to SMBAS or birding, about politics, society and science. You'll be entertained, intrigued, occasionally provoked.
SMBAS chapter content, including all prior postings of any sort, will remain on SMBASblog.com
New Blog:      https://chukarblog.wordpress.com/
New Facebook:  fb.me/chukarblog
New Twitter:      twitter.com/ChukarBlog
[Chuck Almdale]
[Posted by Chuck Almdale]
Note: If this email does not display well for you, go to the blog by clicking on the title above. It came to me with a great deal of underlying HTML formatting which it could take a couple of hours for me to reconfigure. So I pasted it in and hoped for the best.
OCTOBER POPPY HOUR

Join us this Thursday (10/29) at 5:30PM PST for an episode of Poppy Hour dedicated to California wildfire and its relationship to our native plants.

Poppy Hour: Wildfire
Thursday, October 29 5:30 PM -7:00 PM
Via ZOOM or

YouTube

, Free

Wildfire is a complicated force in Southern California, being simultaneously dangerous, destructive and regenerative. During this episode of Poppy Hour we'll be joined by two wildfire experts to shed light on this issue: Dr. Jon Keeley, a fire ecologist with the U.S. Geological Survey, and Henry Herrera, a Forester with California Department of Forestry and Fire Protection (CAL FIRE). We'll take a close look at our local fire ecology, discuss what it's like on the ground as a fire-fighter, and learn about actions we can all take to create wildfire resilient communities. TPF Nursery Manager, Flora Ito will start the show by sharing a few of her favorite fire adapted plant selections.

Poppy Hour is our California native plant internet mashup. Part interviews, part garden tour, part happy hour, we explore the amazing diversity of people and ideas that connect to Southern California plants and landscapes. Join us!


Henry Herrera began his forestry career with the Forest Service in the San Bernardino National Forest working as a wildland firefighter while attending forestry school at Cal Poly, San Luis Obispo. He's worked in several National Forests as a firefighter, forester, and lands/special uses officer. Since May of 2019, Henry has worked as CAL FIRE's  Regional Urban Forester for Los Angeles and Ventura counties. Henry's main experience is with fuels/vegetation management, prescribed fire and reforestation.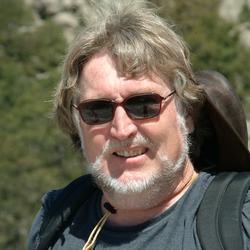 Dr. Keeley is currently a research scientist with the U.S. Geological Survey. Prior to this appointment, he served one year in Washington, D.C. as director of the ecology program for the National Science Foundation. He was professor of biology at Occidental College for 20 years.  His research has focused on ecological impacts of wildfires as well as other aspects of plant ecology, including rare plants, rare habitats such as vernal pools, and plant physiology. 

We would like to thank an anonymous donor for making Poppy Hour season 2 possible.

Theodore Payne Foundation for Wild Flowers & Native Plants 10459 Tuxford Street Sun Valley, CA 91352
The dizzying "sky-dancing" of a Golden Eagle is a territorial and courtship display. They dive from great heights and can reach nearly 200 miles per hour. This video is featured in the new Raptor ID app from HawkWatch International in partnership with the Cornell Lab, available now for iPhone (
http://apple.co/1XIT079
) and Android (
http://bit.ly/1L6NwkJ
). Video (c) Jerry Liguori.
A film from the Cornell Lab of Ornithology. If no film or link appears in this email, go to the blog to view it by clicking on the blog title above. If the film stops & starts in an annoying manner, press pause (lower left double bars ||) to let it buffer and get ahead of you. The Lab is a member-supported organization; they welcome your membership and support.  [Chuck Almdale]

Santa Monica Bay Audubon Society
is putting on our second ZOOM evening meeting.
You're all invited.
Is invasive "Devil Weed" (Sargassum horneri) impacting a key ecosystem subsidy? [Subsidy = a resource that comes from one community into another, such as marine kelp washing onto a sandy beach.] When algae washes ashore it creates beach wrack, an important resource subsidy that provides nearshore communities both habitat and food. Lauren is studying how Sargassum horneri ("devil weed") wrack compares to native Macrocystis pyrifera (Giant Kelp) as a resource on sandy beaches.
As wrack decays on the beach, birds come and feed on the bugs hiding within the wrack. These birds then fertilize the hillsides. I expected to observe birds such as plovers picking amphipods from the wracks. I spent a lot of time observing the wracks hoping to see a difference in bird activity between the two wrack species, but I had no bird visitors. (I may ask your members for input on why that might have been!). I think my observations may have been different if I conducted the experiment on the mainland. I think the results are still relevant because one wrack may provide more resources to birds even if I did not observe them.
Lauren Smith, 5th year PhD Candidate at UCLA in Ecology and Evolutionary Biology. She grew up in southern California and developed a passion for the ocean which inspired her to pursue a career in marine ecology. Many years later, she now conducts algae research on Catalina island!
Lauren has received two research grants from SMBAS and she gave us a short presentation of her work at our March 2019 evening meeting.
(If this button isn't working for you, see detailed zoom invitation below the double lines.)
---
---
Meeting ID: 833 3713 8382

Passcode: 929897

One tap mobile

+16699009128,,7331885934#,,,,,,0#,,435843# US (San Jose)

+12532158782,,7331885934#,,,,,,0#,,435843# US (Tacoma)

Dial by your location

+1 669 900 9128 US (San Jose)

+1 253 215 8782 US (Tacoma)

+1 346 248 7799 US (Houston)

+1 301 715 8592 US (Germantown)

+1 312 626 6799 US (Chicago)

+1 646 558 8656 US (New York)

Meeting ID: 833 3713 8382

Passcode: 929897
[Chuck Almdale]